Wahl Models These are just a few of the Models.

Sharpen All Models
Wahl 1005 clipper blade
Wahl 1006 clipper blade
Wahl 1026-001
Wahl 1026-515
Wahl 1045 clipper blade
Wahl 1046 clipper blade
Wahl 2068-300 Peanut blade
Wahl 2070-100 blade
Wahl 2092-200 fine blade
We can not sharpen or repair the Wahl Moser Germany Blades and clippers as shown below. Wahl suggest buying new ones instead of resharpen blades. Also Whal Blades that have Plastic on them Such as some Wahl Peanut blades.

Here are some blades we sharpen. Top and Bottom blades are sets.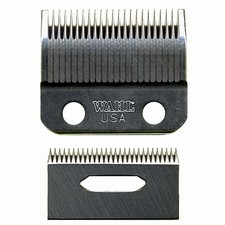 Please Send Sockets & Tension Spring with all Detachable Blades.